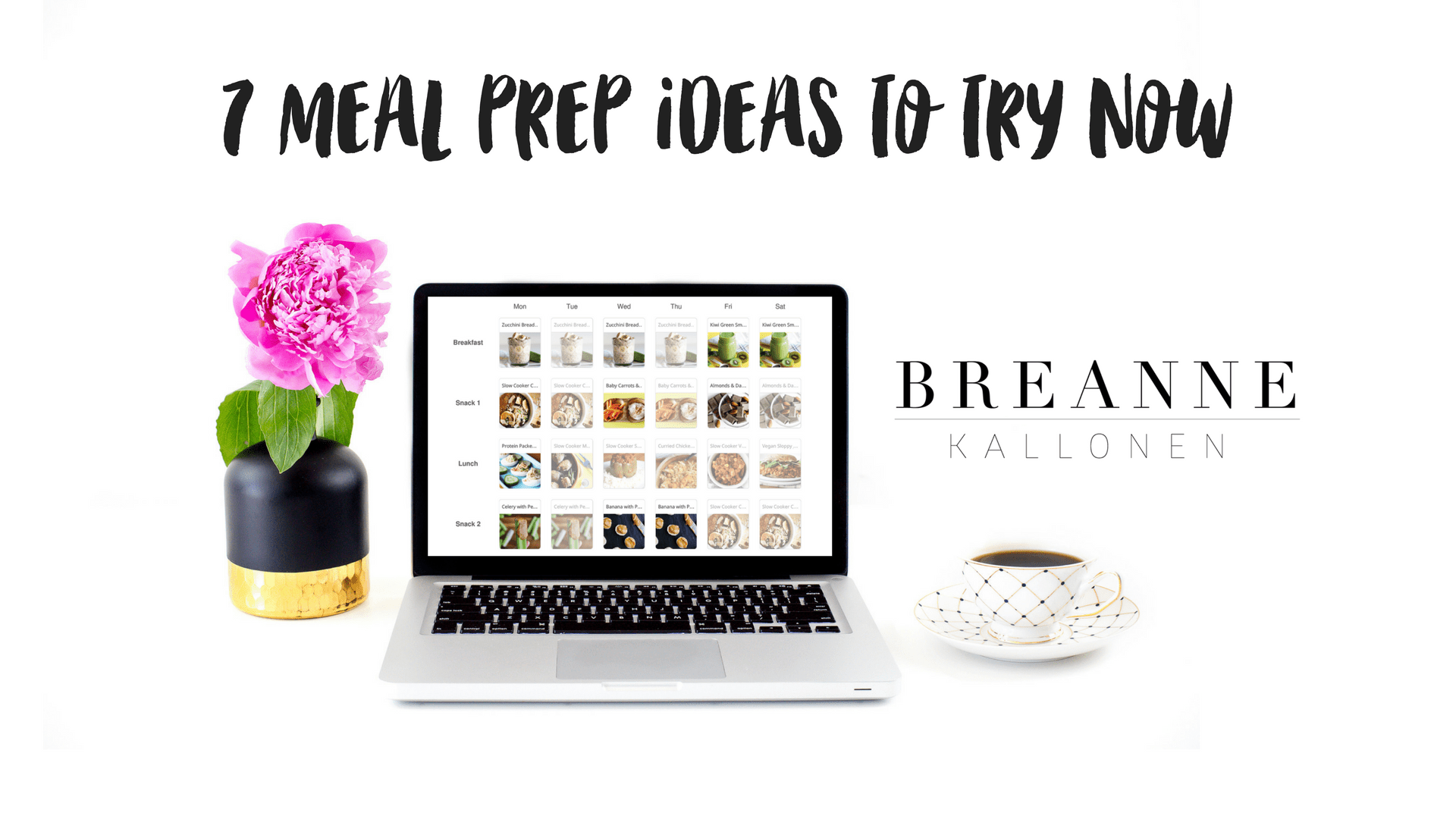 When it comes to eating healthy having a game plan is critical to your success.
Meal Prep Sunday will:
Save you time
Keep you organized
Save you money
Help you reach your health goals faster.
Research backs the fact that if you fail to plan, plan to fail. A recent study published in the  American Journal of Preventive Medicine looked at the time spent preparing food of 1,319 adults.  Of the respondents, 16% said that they spent less than one hour on food prep; 43% said they prepped for one to two hours; and 41% said that they prepped for two hours a day or more.
What was concluded was that spending less than an hour preparing food is associated with consuming more fast foods, and eating less fruits and vegetables, which is not surprising.
BUT…
What if you have no time?
What do you even make?
How many portions?
How do you store it?
As a mom of two, business owner and entrepreneur I get it. Making time for meals is not easy but there are simple things you can do that will make meal prep easy and efficient. I promise you planning and prepping your meals ahead of time will make healthy choices a no-brainer.
Imagine instead of reaching and devouring packaged foods, you would come home to a cooked nutritious feast that can be easily heated up in no time. This will save you money in the long run.
If you are intimidated by cooking or meal prep, don't be.. I am no chef myself. Confession, sometimes microwavable brown rice/quinoa is on the menu- quick, easy and no mess.
I want to help you get set up for a fuss-free and healthy week. Get your Tupperware ready and let's get started with these 7 Meal Prep ideas to try now.
7 Meal Prep Meals to Try Now:
1. Spice Up Your Chicken
If you are in my Weight Loss on the Wild Side Program  you absolutely know that I am a fan of consuming adequate protein. Protein is important for building and repairing tissues such as bones, hair, skin, nails, cartilage and blood. It is also critical for hormone balancing, enzyme function and chemical reactions. One of the easiest way to prep chicken is to line a baking sheet with aluminum foil, add chopped chicken and top with olive oil and spices.
TIP: create 3 divisions or sections with the aluminum foil and season the chicken 3 different ways. Cut up the defrosted chicken, drizzle with olive oil and add Sriracha, BBQ, fajita spice, honey mustard, maple – you can have it all. This helps to create 3 variations of chicken in one pan!
2. Raw Veggies
Cut up vegetables are great for a snack on the go. Even if time is too limited to chop for the week get a veggies tray with everything done for you. Investing in a sprilizer is also a fantastic idea. "Zucchini noodles" or butternut squash noodles are a great gluten free alternative to pasta. These will stay fresh in the fridge for 3-5 days. All you need to do when you get home is warm them in a pan with some pasta sauce.
3. Hard Boiled Eggs
Eggs are a fantastic source of high quality protein and essential amino acids. Eggs will keep you satisfied longer and can be prepped ahead of time. To preserve hard boiled eggs even longer, place in a jar and cover with vinegar.
TIP: If you are like me getting the timing right for hard boiled eggs is a challenge. To avoid this, try this hard boiled egg muffin tin method.
Preheat oven to 350 degrees F (175 degrees C).
Put 1 egg in each of 12 muffin cups.
Bake in preheated oven for 30 minutes.
Plunge baked eggs in a large bowl filled with ice water until cooled completely, about 10 minutes.
4. Boxed Greens
When you are super busy, washing and chopping salad greens can seem daunting. This is why I often purchase organic pre-washed, pre-cut mixed greens.
TIP: If you have forgotten about them and they are about to go bad, put handfuls in ziplock bags and freeze them. Then you can easily sauté them in an omelette or throw them in a smoothie.
5. Roasted vegetables
Roasting large batches of vegetables ahead of time is a fantastic way to save time during the week. Cook vegetables with similar cooking times together. Fast cooking vegetables that can be baked in the same pan include asparagus, mushrooms, and cherry tomatoes. Root or more starchy vegetables like carrots, potatoes, broccoli, cauliflower, onions, parsnips will take longer and can be cooked together.
6. Overnight Oats
If you've never heard of overnight oats before, you will be glad you're reading this. Overnight oats are a no-cook method of making oatmeal. All you do is mixed rolled AKA: old-fashioned oats with the liquid and other mix-ins, and let it rest in the fridge overnight.
The next morning you will wake up to a puddling-like porridge that is as simple as grab and go. While the texture is creamer, in my opinion it is much better. The best part there are a million-and-one recipes and variations of overnight oats.
There are a million-and-one recipes and methods for making overnight oats out there, so I'm not planning on reinventing the wheel here. Instead, I'm going to show you how to make eight of my favorite overnight oats recipes. There is no need to reinvent the wheel, Click Here for some of my favourite recipes.
7. Prosciutto Breakfast Muffins 
One of my favourite make ahead snacks. These are super delicious and a must have on low carb days. Simply grease a muffin tin and line it with prosciutto. Then crack in an egg and make sure to break the yolk as it cooks better. Place in a 375F oven and cook until the yolk is no longer runny. These can easily be stored and reheated throughout the week.
8. Energy Balls
Making a huge batch of energy balls and freezing them is a great way to always have a healthy snack ready. These are great during those "hungry" times because they offer a satiating combination of protein, carbs and fats. Energy ball recipes are beyond numerous, totally customizable  and the perfect fast, nutritious and affordable snack.
Need more guidance and support?
If you are wanting a done for you layout of how to plan your week, I hear you. This is exactly the reason why I have created a Meal Prep Sunday program that simplifies everything you need to prepare enough meals in roughly two hours.
Wait, what! How is this even possible in so little time?
It is possible because literally all the hard work is done for you. This plan includes healthy, simple recipes that take no time to whip up. It also does not require you to be a chef (because we all know I am not).  You also receive a checklist that will ensure you stay on track and your prep is super efficient.
Sunday Meal Prep Mania gives you:
A meal plan beautifully laid out
Itemized grocery list so you can get in and get OUT!
Delicious recipes because you needs to taste good
Task checklist to help you from chopping to how to pack them all up
The only thing that is required from you is to grab the plan, do the shopping and set aside one time on Sunday. Within hours you will have stacked healthy meals for the entire week that are worthy of an instragram pic.
To grab your meal plans click here and for a completely individualized plan set up a free consult.