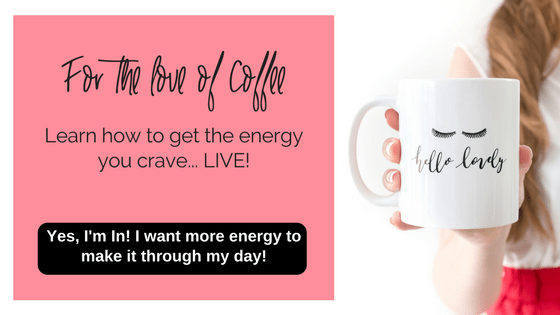 You are a high achieving women or want to become high achieving but your fatigue and low energy is preventing you from getting everything done in the day?
Do you have highly sought-after skills that you know could help you earn even more but you get stuck because of brain fog or lack of focus?
Do you wish you could be as wide awake in the morning as you are between 1 & 3 AM?
Has your doctor told you low energy is "normal" given your situation?
If this sounds like you then I invite you to my next upcoming webinar.
FREE WEBINAR: "FOR THE LOVE OF COFFEE"
 Let me show you the 3 MOST IMPORTANT strategies you need to implement to get the energy you crave!
THIS WEBINAR BEGINS: WEDNESDAY, OCTOBER 11th 7 PM EASTERN
URING THIS FREE WEBINAR YOU WILL LEARN:
Why your current habits might be counterproductive
How food can change your metabolism, and boost your energy
Your sleep cycle, and why it makes a big difference
How a sluggish thyroid and daily stress is sabotaging your energy
Sneak peek into the Wild Side Wellness and FREE BONUS energy-boosting meal plan