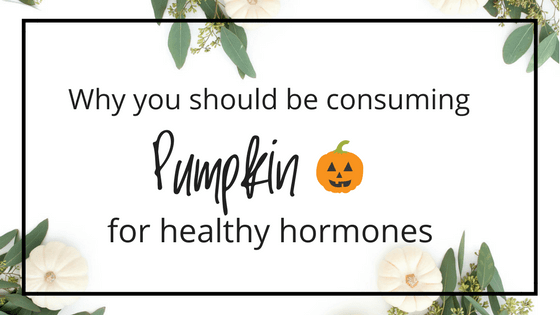 Fall is in full swing! Which means that pumpkin spice is in everything!  While I much prefer summertime, the one thing I love about fall is how incredibly healthy pumpkin is!
Why I love Pumpkin
1. Fiber to help you feel full longer: Pumpkin seeds are packed with 1.7 grams of dietary fiber per ounce and mashed pumpkin has only 50 calories per cup and 3 grams of fiber. Fiber helps to keep your bowels regular and ensures toxin & hormone elimination.
2.Vision Boot:  Pumpkin is high in vitamin A, a vitamin necessary for healthy eyes, skin, teeth, and bone.
3. Phytoestrogens: Pumpkin seed oil contains phytoestrogens which modify estrogen levels in the body.  Read more about estrogen levels here. 
4. Better Sleep: Pumpkin contains tryptophan, the amino acid that helps your body make serotonin (the calming & feel good neurotransmitter).
5. Helps your Hubby: Pumpkin seeds could be especially beneficial for men because they are a great source of zinc. Zinc is an important nutrient for male fertility, the immune system, hair loss, fatigue, and for taste & smell.
While I love pumpkin for the above benefits, unfortunately, a lot of pumpkin spice recipes are challenging to justify when you want to eat more volume. To solve this problem I have put together my favourite hormone balancing pumpkin recipes in my Free "the Great Pumpkin" Ebook!  These are incredibly straightforward recipes and delicious of course. PS this ebook includes my famous Progesterone boosting Period Balls! Click here to claim this free download. 
What is in this Great Pumpkin ebook?
This Great Pumpkin eBook showcases 15 awesome pumpkin recipes, you've got your savoury and of course your sweet; plus breakfast, snacks, entrees and dessert! If I was to pick a favourite it would be… Ugh. That's hard! I would have to go with the pumpkin pie baked oatmeal not only because it is delicious with coconut whipped cream but also because it is so fast and easy.