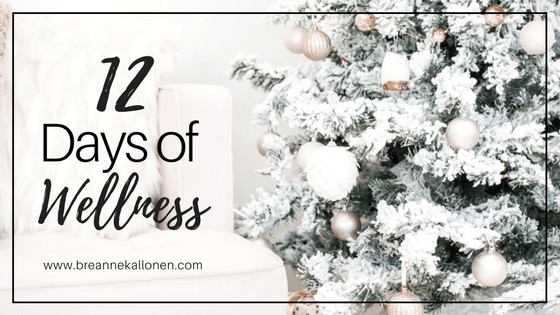 The holidays are in full swing…which means:
hot cocoa, glitter, festive music, wrapping paper, and of course, prezzies!
One of my favorite things to do is give gifts!
So this year, I'd like to gift YOU with 12 Days of Wellness.
For 12 days, you'll get 1 gift each day, delivered right to your inbox!
But not just any gifts…these gifts will help you achieve your health & fitness goals!
Some of the gifts you'll get include:
• A 7-day DIY Meal Plan Sheet
•  Printable Holiday Quotes to Decorate your Home
•  Tips to Make Your Bedroom a Tranquil Sanctuary
•  A Speedy Holiday Morning Workout
•  Tips to Maintain a Healthy Weight During the Holidays
•  Ideas for Self-Care (which I use myself!)
•  Printable Gift Tags for Gift-Giving
•  A few of My Favorite Holiday Recipes
•  Pretty Holiday Desktop Wallpaper
…and MORE!
To get your gifts, just click the button below, enter your name and email, then check your inbox!
And be sure to share it with your friends