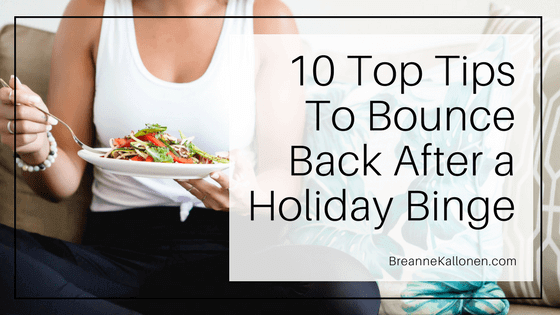 Besides the EXTREME cold over here in Canada, I'm in love December! Relocate-me to Florida in December and I am your personal Christmas elf! The holiday parties, relaxation, the pine scents, Santa's magic, delicious foods, festive cocktails, and quality time with our loved ones makes December amazing.  But let's be real: the season of sugar-loaded turnip, pecan butter tarts, and alcoholic beverages has left me bloated, sluggish and not quite feeling like myself. The good news is, you literally just need to tweak a few habits in your diet and lifestyle and you can bounce back to feeling like you in no time. Here are my top 10 tips for bouncing back after the holidays:
1. To Bounce Back Cut the Guilt and Just Do It!
Shit happens, oh well! If you are beating yourself up for overindulging, you are just progressing farther from your end goal.  Keep the memories and the happiness as the BEST PLAN is one that is both healthy and enjoyable! Don't add further stress to your system by beating yourself up just commit to bounce back into you routine now.
2. Set Realistic Expectations
Once sugar is back into your diet let me tell you from experience YOU WILL CRAVE IT! The first 3 days of your reset back into your routine will likely suck if I am honest. You may be slower, sluggish and feel like it is harder than usual mentally and physically. To avoid having to use superhuman willpower get to bed early, wake up at your normal time, ditch ALL the junk, and drink lots of water. After a few days you will adjust.
3. Set Positive Goals
Did you know that just by setting POSITIVE goals you will reach your goals faster? This is because creating a goal from a NEGATIVE point of view sets you up for failure.
Negative goals are based on:

 The removal, absence, or avoidance of something

 Unrealistic or unhealthy/harmful ideals 

Created from negative reasoning
Positive goals are:

 Healthy and realistic

 Have a known positive outcome

 Attainable and timely

 Framed positively
By setting positive and attainable goals, you are more likely to succeed and stay motivated than if you set high, lofty goals that are unsustainable and will discourage you from staying on track.
Instead of saying "I'm not going out at all this week!" (probably not realistic and focused on the absence or removal of something) make a goal to meal prep protein-packed dinner options (sustainable and realistic).
4. Cut Down on the Number of Meals
Keep your meals simple and clean. One strategy I love is intermittent fasting. I personally eat 2 meals a day and sometimes add in a snack. Choosing healthy options twice a day is much similar that five to six times. Allowing your digestive system to rest is key to overall health and will allow you to replenish those micronutrients that may have been lacking over the last few weeks.
5.Simplify
If it comes from the ground or has a mother than it is probably okay to eat. Do not over complicate things. Literally just focus on consuming lean proteins, healthy fats, and fresh vegetables at every meal. Instead of focusing on the foods you want to avoid, focus on incorporating more of the good stuff in (be a "Positive Goal Digger").
6. Hydrate, Hydrate, Hydrate
I don't care how you have to do it, just do it. Aim to drink half your body weight in ounces of water a day. One tip is to start your day off with warm water with freshly squeezed lemon juice. This will kick-start your metabolism, promote detoxification, and stimulate the bowels to move. Click here for other life hacks to get your water in if you are struggling.
7. Get a Plan
I am a firm believer in the power of being organized and having a bounce back plan. The top reasons my clients are so successful they #1 have a gameplan and #2 I hold them to it. Setting aside a bit of time to prepare some simple and nourishing meals that can feed you over multiple days will save you time and money. It will also make it so much easier for you to eat well and stay organized.
Go to my Meal Plan Page to choose a meal plan that best fits your needs. ,
8. Get Off your Butt and HIIT it!
My secret weapon to bounce back after the holidays is High-Intensity Interval Training (HIIT). HIIT elevates your heart rate, get you sweaty, and boosts your metabolism for 48 hours! Since our skin is our largest organ, you want to work up a sweat every day so you can expel toxins that are floating around. The movement will make you feel better physically and mentally by releasing some endorphins, those feel-good chemicals that boost your mood. Click here to visit my youtube channel for an example HIIT routine.
If you are finding it hard to get motivated, remember action proceeds motivation! In order to maximize your results in 2018 hold yourself accountable to taking action!
9. POOP at least once a day
We eliminate hormones and toxins from our bowels. You must must must have a formed and large bowel movement every day. TMI I know but it is important. If you are struggling to go, try to incorporate gentle fibre into your diet paired with plenty of water.  This will help you to clear out your system by way of great poops. Add things to diet such as psyllium fibre, aloe vera juice, cleansing tea, chia seeds, ground flax seed, and fresh veggies!
10. Join My Wild Side Program
Need a holistic and sustainable plan of action? If you've been wanting to turn up your game, eat healthier and get lean, feel energized, and balance hormone the Wild Side is for you. If you are a high achieving woman who has put her health on the back burner 90% of the time and is ALL-IN for 2018, I want to work with you.
No restrictive diets, no complexity, just real food, and real quick results. I will be providing program you with sample weekly meal plans, prep guides, grocery lists, delicious healthy recipes, home and gym workouts, hormone balancing education, how to overcome emotional eating, and one incredible community to fist bump you and your healthy choices on the daily.
The Wild Side begins on Monday, January 16th, 2018 and is now open to all new members. Spaces are limited and filling fast.  Sign up here.